1. Riteish Deshmukh- Genelia D'souza Deshmukh
Being cheesy, adorable and the best of friends, they surely make us go 'aww'
If you're spouse is adorably the cheesiest person in your life, send them a bunch of 3 cheesy letters here.
2. Shahrukh Khan- Gauri Khan
2 religions, 25 years of marriage, 3 beautiful children- they're in a rock solid relationship living life king-size.
Because we know love conquers all, we've some amazing ways for you to express your extraordinary love here.
3. Ranveer Singh-Deepika Padukone
From their supercute dubsmash videos to the cheesy PDAs, they're everyone's favorite.
4. Karan Singh Grover- Bipasha Basu
Celebrate, laugh, click selfies and do everything together- with all these they've just shown us what's it to be madly in love.
Adore your awesome selfies with your loved one with these perfect frames here.
5. Akshay Kumar- Twinkle Khanna
Apart from being the doting parents that they're, they give serious lessons on how to keep the romantic spark alive.
Whisk your sweetheart away on a private yacht in Goa and keep your romance quotient high. Book your yacht here.
6. M.S.Dhoni- Sakshi Singh Dhoni
Won matches or lost them, Sakshi has always been there to support him in the stands, and his life.
Assure your loved one that you'll be there through their thick and thin in heart-touching ways here.
7. Saif Ali Khan-Kareena Kapoor
Surpassing the age-gap and the religion taboo, Saif and Kareena are the most mature couple who're living happily.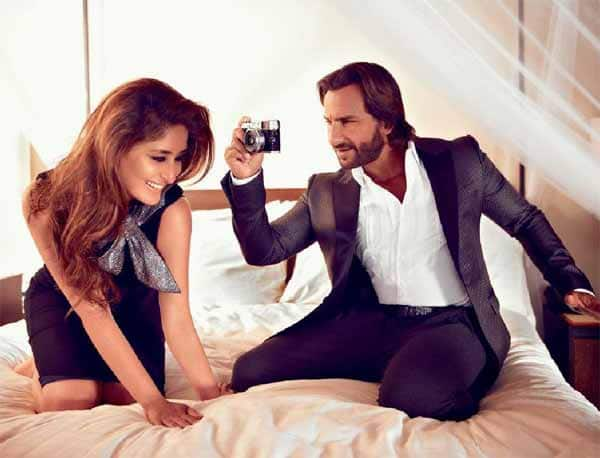 Celebrate your love that has grown strong and mature over the years in special ways here.
8. Shahid Kapoor-Mira Kapoor
For a generation that believes 'love' can't happen in arranged marriages, they just prove the belief wrong.
Remind your partner of those moments how 'love' struck you, through a video here.
9. Amitabh Bacchan- Jaya Bacchan
Controversies, speculations or the media- nothing has deterred this couple who have been married for 43 years now.
However old your relationship is, nothing beats the romance in writing love letters. Get 3 love letters in tiny bottles here.
10. Soha Ali Khan- Kunal Khemu
Who said marriage after live-in relationship doesn't last long? They've a smooth relationship going rock solid.
And for a lively yet rock-solid relationship, romance is a must! Send your special one a box of romantic goodies here.
11. Ajay Devgan-Kajol
Their 15 years of relationship could be the reason why people say "opposites attract".
Hasn't your partner stayed beside you, patiently bearing all your annoying habits? Thank them in amazing ways here.
Every love story is unique and all relationships are special. Find awesome ways to tell your partner how special they are on www.oyehappy.com.
comments