We've heard you! Your hunt for out-of-the-box Christmas gifts is over.
It can be challenging to buy a gift for everyone on your list that is unique and out-of-the-box and yet something they don't have already. But hey, don't stress! If you haven't found the best Christmas gifts this year for your loved ones, we're here.
Our latest Christmas launches has you covered with all the out-of-the-box gifts that you can pick for all the special people in your life. We've Christmas gifts for women, men, kids and families, so you can show your loved ones just how much you care. Whether you're sick of the booring greeting cards or are trying to make homemade gifts or DIY from  Youtube videos, our list has a variety of personalised, creative or funny gifts you can just order online, sit back, relax and watch your loved ones rejoice when they receive them.
Christmas Hampers
Giant Sock Hamper
This Christmas, don't just cover your gifts in colorful wraps. Delight your loved one with a personalised hamper with chocolates, greetings and many more goodies.
Get it here.
7 Days of Christmas
A unique hamper for the most special people in your life! Make the special one die with curiosity by gifting them this 7 boxes hamper, each locked with a code which only you'll know. Each of these boxes have quirky Christmas messages, hot chocolate ingredients, personalised fridge magnets and more.
Get it here.
Sleigh from Santa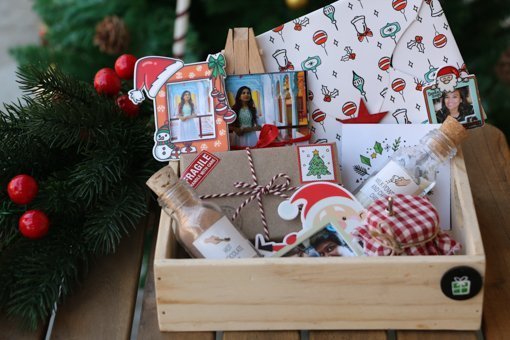 We bet your loved one will be left enthralled with this handcrafted wooden crate filled with handpicked and personalised goodies with lots of love from the elves at Oye Happy.
Get it here.
Christmas Chocolates
Chocolates from Santa
Christmas can never be complete without chocolates and of course Santa Claus himself. Send your loved one a Santa's jar of homemade chocolates with a cute greeting hidden inside it.
Get it here.
Ho Ho Ho
Is your loved one a chocolate addict? Here's a Christmas gift to treat their sweet tooth. You'll get brownie points for this, because this little hamper is a tower with 3 gift boxes with chocolates of course, and other personalised gifts.
Get it here.
DIY Hot Chocolate
Don't you agree that there's nothing that could taste better than a piping hot chocolate drink this chilly Christmas season? Surprise a DIY or cooking fanatic with a cool hot chocolate kit comprising a personalised mug, ingredients and recipe to make a delicious piping hot drink.
Get it here.
Quirky and unique Christmas greetings
Santa's Pouch
Greeting cards from a novelties store are too boring and outdated. Agree? Our Christmas launch has this unique pouch with adorable message cards to wish your special ones a "Merry Christmas" in the cutest way, guaranteed to make them smile.
Get it here.
Christmas Countdown Letters
Is Christmas your loved one's favorite festival? Here's a greeting for them to celebrate an entire week of Christmas with letters wishing them from 19th December to 25th December.
Get it here.
Christmas Countdown Magnet
There's always one person in our lives who we know awaits Christmas more than Santa himself. And we think these amazing excited bunch of people deserve something for keeping up the spirit of Christmas the whole of December. So our elves designed a magnet  fitted with number slots so that they can keep a count of the number of days left to unwrap their presents.
Get it here.
Lit Christmas Card
Regular greeting cards are boring. Wish your loved one a very Merry and Magical Christmas with this unique card that lights up with the flick of a button.
Get it here.
Mail from North Pole
This Christmas, how about getting your gift  dispatched straight from the North Pole? Wouldn't receiving a gift box with Christmas greetings and goodies from North Pole absolutely delight your loved one?
Get it here.
Letter from Santa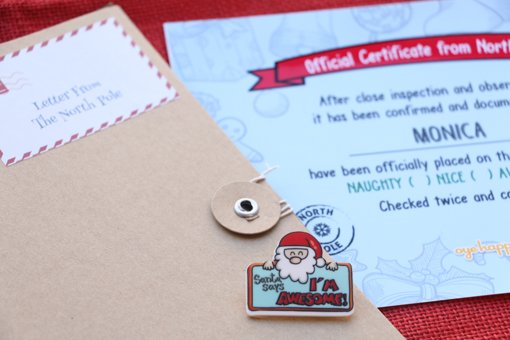 'Nice', 'naughty', 'hopeless' or 'awesome', which list do you think your loved one should be in? Wish your special ones with this quirky letter and certificate from Santa himself.
Get it here.
Nostalgic Christmas Card
Christmas is a festival to spread love, cheer and cherish memories. And we have a perfect gift for your loved ones that comprises of a Christmas greeting and a frame with their best pictures selected by Santa's elves.
Get it here.
Christmas Photo frames
Santa's Hat Magnet
This holiday season, surprise a selfie lover with a fridge magnet that comprises of 4 of their 'most-liked' photos on Instagram with a Santa's hat for the Christmas cheer.
Get it here.
Christmas and You
Have someone in life on whom you considered writing a book? For that awesome person in your life, here's a photo frame with things that define them.
Get it here.
Mug for Elves
There are people who just wish 'Merry Christmas' on 25th and then there are people who keep counting days for Christmas and start wishing 'Merry Christmas' from one week before. For such excited Christmas lovers, here's a mug personalised with their picture and a message 'Santa's favorite elf'.
Get it here.
Christmas magnets
Know someone who eagerly awaits the coming of Santa with gifts every Christmas? For these Santa lovers in your life, we have these photo magnets in the shape of a Santa to amuse them.
Get it here.
Christmas on Frame
Christmas that comes in the end of every awesome year, surely is a festival to recollect and cherish the memories made in last 12 months. Make your loved one recollect their year with this unique handcrafted Christmas frame with their photos clipped.
Get it here.
My Personalised Mug
Spell the name of your loved one and send us your favorite pictures of them, and tadaa! We'll take care of the rest while you get to see your special one rejoice and smile with this personalised mug.
Get it here.
Christmas in Spotlight
Take your loved one on a trip down the memory lane with a Christmasy light frame with their pictures and snowflakes, and other holiday season ornaments.
Get it here.
The Happy Mug
Have you always thought that your special one deserves a biopic because you know their favorite food, color, movie, dialogue, their birth date? Movie making might be too costly an affair. \but this \christmas, personalise a mug with their picture and everything you know about them written on it.
Get it here.
Like our Christmas picks? You can thank us later. Check out more of our best Christmas gifts here.
comments