We hear you, we see you, ladies! It's that time of the year you're constantly searching to get the best Valentine's gifts for him, for the special man in your life. You want to be creative, thoughtful, romantic and want a personalized gift for him. And we've a list of all of these!
1. Hugs & Cushions
Late night chats, and he wishes to pop out of the phone and give you a tight hug? For the times he cannot do that, gift him a cushion with both your names and a date significant to both of you.
Order this here.
2. Land on the Moon
You've told him after the end of every chat that you love him to the moon and back. Time to prove it right! Book an acre of land on the moon on his name, this Valentine's day.
Order here.
3. Growing Old Together
You've realized he is your soulmate and the one you want to grow old together with, seen infinite future dreams of your life together. There's no better Valentine's day gift for him than this graph that shows a sneak peak into a loving future.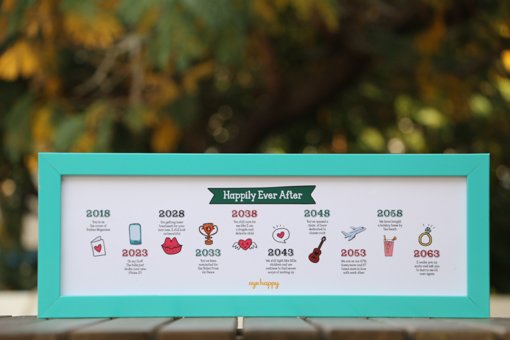 Order here.
4. Date Coupons
Deciding on the perfect thing to do together is one of the most complicated things in your relationship? If so, gift your boyfriend these redeemable date coupons this Valentine's day and enjoy a board game evening, a candlelight dinner, no cell-phone date or a naughty night out.
Order here.
5. Jigsaw Magnets
Still not over the idea of gifting him the 100th photo frame? We've a cooler idea. Surprise your boyfriend with this pair of adorable fridge magnets designed in the shape of a jigsaw puzzle.

Order here.
6. Dice & Spice
Bored of movie nights, candlelight dinners as date ideas? Here's a naughty way to spend an evening with him – a kinky board game with "truths", "dares", "challenges" and "redeemable coupons".
Order here.
7. We Fit Perfectly
If you both define what the millennials call the #CoupleGoals, here's a perfect Valentine's day gift for him – a pair of t-shirts you both can wear and flaunt your chemistry with.
Buy here.
8. Locked for my Love
One of best Valentine's gift for him – a special edition gift with your messages locked in QR codes and a surprise hidden inside a locked box. Every time he asks you for the code demand him to do something that you've always wanted him to.

Order here.
9. Name a star
While he has left you spellbound with all of the out-of-the-world gifts to you, it's your turn to gift him a literal out-of-the-world gift this Valentine's day. Name a star after him and gift him the constellation chart and a certificate.

Buy here.
10. 2 States Mug
If you're from Chennai and he's from Delhi, this cute surprise will serve as a reminder that "distance" is just a word for the two of you.
Order here.
11. Mapping Hearts
In a long distance relationship? But, don't you agree 'distance' is just a word for the two of you bound by love? Here is a heart frame with the two cities you both hail from.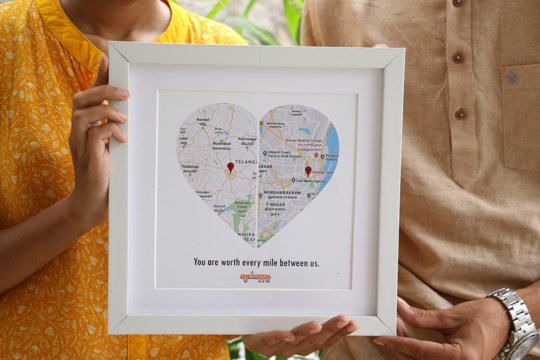 Buy here.
12. Digital Portraits
Have a favorite picture – whether it's the first picture of you after he proposed to you, or one from the most romantic date he took you on? Turn it into an exceptionally beautiful piece of digital art and frame that memory forever as the best Valentine's gift for him.

Order here.
Don't be the procrastinator. There are approximately 20+ days left for you to pick the best Valentine's gifts for him. Do it right away. Check more here.
comments