It's that time of the year when boyfriend rack their minds, browse Google for hours checking for romantic, unique, within budget gifts for their girlfriends. With Valentine's day around the corner, we're sure you landed here during one of such searches. Your search ends here – we have the most romantic yet affordable Valentine's day gifts for your girlfriend that she will love and remember always! And hey all are under Rs. 1000 🙂
1. Date Coupons
Add a spark to your relationship with these romantic date coupons your girlfriend can redeem from you, on Valentine's day.

Order here.
2. Letters to my Love
You aren't into writing long cheesy romantic words but she loves the good old idea of love letters? We'll be your messengers and deliver your girlfriend with 7 "Be Mine Forever" letters.

Buy here.
3. Valentine Contract
Send your girlfriend a formally package envelope with a hilarious contract binding her to be your Valentine for a lifetime.
Order here.
4. Magic Mirror Card
Regular greetings are boring! Surprise your girlfriend this Vday, with this magic card with a mirror in it. A fairytale way of reminding her how cute she is!
Order here.
5. Light My Valentine
Here's one of the cutest ways of asking your girlfriend to be your Valentine forever. Instead of getting her to say 'yes', get them to flick a button instead.
Order here.
6. Messages in a bottle
Messages in bottles have a long tradition of being the best delivery service for love. Surprise your girlfriend with cute messages inside little bottles.
Order here.
7. Emoji Cards
If she's one of those who can't get enough of :), :P, :*, <3, here are emoji cards with hilarious messages.
Order here.
8. Mapping hearts
'Distance' is just a word for couples who connect with each other in spite of belonging to different places. If you're one of those couples, here's an amazing frame.
Order here.
9. Dialogue Box
Gift your girlfriend your special story with a box that unfolds into 5 pictures and messages in it.

Order here.
10. My Special Bracelet
Make your Valentine's gift to your girlfriend remembered and treasured forever with this handcrafted photo bracelet.
Order here.
11. Awesome Chemistry
A cute twist to the regular boring greeting cards. Remind your girlfriend of the awesome chemistry you share with a card that lights up with the flick of a button.
Order here.
12. Moon of my Life
Love her to the moon and back? Express it with a unique pendant that will remain forever close to her heart.
Order here.
13. Little Somethings
For the unsaid words of love that you've always felt hard to articulate, here are 5 mini placards that will make your girlfriend giggle, blush and turn red, this Valentine's day.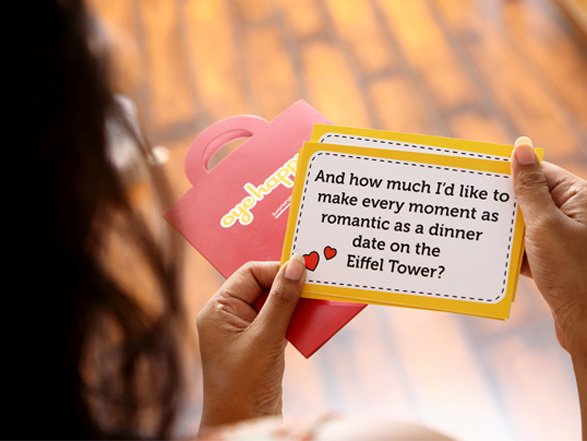 Order here.
14. Romantic Equation
If you're romantic with a sense of humor, here's an adorable gift – an easel with hilarious pie charts.
Buy here.
15. Pandora's Box
She's definitely the most special woman in your life and for special people one gift might just not be enough! Gift her a gift inside a gift inside a gift inside a…. this Valentine's day!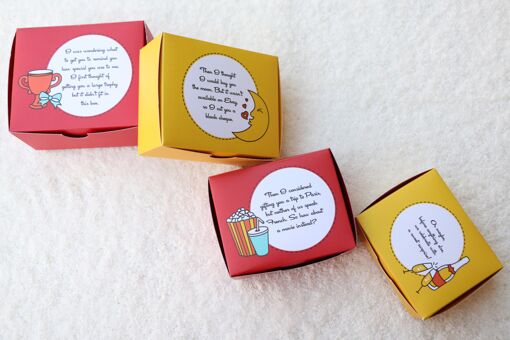 Buy here.
16. Queen of Hearts
Make your gift extra special with this uniquely handcrafted antique pendant in the shape of a heart, which you can customize with a photo.
Order here.
We have more unique gifts for this season of love. Check them out here.
comments