Finding the perfect Valentine's Day gift for the most special man in your life is definitely a task every year. We hear you, ladies. You want to be creative, thoughtful, romantic and want a personalized gift for him.
Photo frames, handwritten letters, flowers…you've given him all of these. And now finding yet another uncommon Valentine's day gift for him is difficult? We at Oye Happy have curated some amazingly romantic, cute, naughty gifts for your significant other, for this season of love.
Valentine's Day may come once a year, but the pressure to keep the romance on a peak on this day is real and you can definitely rely on us to help you do the needful, not just for Valentine's Day but also for the remaining 364 days! There is no end to the things you can do for each other, or the gifts you bring for each other and here are just a few ideas you can begin with.
1. Love Contract
Hold your special man legally responsible for being your Valentine for a lifetime by binding him with this hilarious contract.
Order this here.
2. Appily Yours
Have you seen him glued to his phone even when you're with him on the most romantic date or getaway? If your partner is someone who loves being on his phone even when the two of you are on a date, this is one way you can still have his attention! The app is customised as per your partners likes, and it consists of puzzles, fun quizzes, custom messages and pictures. Once he is done using the app, his attention is definitely going to come back to you. Doesn't this just sound like the perfect gift for your boyfriend on Valentine's Day!
Book here.
3. Hugs & Cushions
Late night chats, and he wishes to pop out of the phone and give you a tight hug? For the times he cannot do that, gift him a cushion with both your names and a date significant to both of you.
Order this here.
4. Land on the Moon
You've told him after the end of every chat that you love him to the moon and back. Time to prove it right! We say "love you to the moon and back" so effortlessly, but now you can prove it by booking an acre of land on the moon after your partners name! If this isn't the best valentine's gift idea, I don't know what is. All you need to do is give us the name of the person, and voila! You will get a personalised certificate with the name of the person and an image of the moon with the exact coordinates of the land. You can also add a personalised message on the certificate.
Order here.
5. Mapping Hearts
The only thing that sucks in a relationship is when there is distance, but we do not even let you realise that with these creative gift ideas for your boyfriend. Here is a gift that covers the distance by mapping the city you live in and the city your boyfriend lives in. Just give us the names of the city along with the location you stay in and we will make a frame with a piece of both your hearts put together. How cute is that!
Buy here.
6. You & I
Surprise your boyfriend with a hamper straight from Cupid's warehouse. From handcrafted mail boxes and messages to cuddle contracts, this hamper is specially designed to make him blush for an entire day. From rewritable fridge magnets, to a cuddle contract and even a box filled with witty pick up lines, this hamper will make the best Valentines gift for your boyfriend. If your boyfriend isn't going "awww" by the end of it, we may need to deliver a new boyfriend to you soon.
Buy here.
7. Growing Old Together
You know you've met your soulmate, and honestly nobody can predict the future the way we can at Oye Happy! Stop going to all those astrologers and tarot card readers to tell you what your future holds, because we will show you a sneak peak of it. All you have to do is answer a bunch of questions about you and your partner to know what the next 50 years together look like. This is not only one of the best valentine's gift idea but also one that your partner will cherish every single day.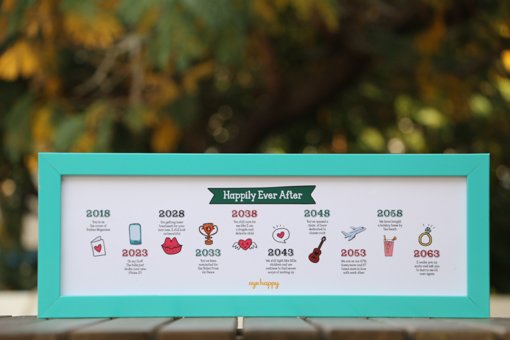 Order here.
8. Dice & Spice
Candle light dinners are so passe when you can do so much more to raise the temperature between you and your partner. This naughty board game has 4 sets of cards, each colored differently. Each time you roll the dice, you have to follow the instruction on the corresponding card. The cards are categorised as 'Truths', 'Dares', '7-Second Challenge' and 'Redeemable Coupons'. From sitting on your partner's lap till the next round, to allowing your partner to take off one piece of your clothing, give a hickey in 7 seconds, or make your partner flash a body part of your choice, there is a lot this gift can lead to between you and your partner. I am sure this has given you the answer to naughty gift ideas for him.
Order here.
9. 2 States Mug
Distance is just a word when you can be from two different states and still share chai over a video call from mugs that speak about each other. If your boyfriend is from Delhi and you are from Pune, do not worry. Oye Happy will ensure he still remembers everything about Maharashtra even if you are miles apart. A customised mug with your pictures and the state you belong to, to let him know that he is worth every mile between the two of you. The mug brings you together for your chai dates and also shows how amazing you are at picking out cute Valrntines gifts for your boyfriend.
Order here.
10. Lovingly Yours
Photo frames are always the go-to gifts for every occasion. And you definitely believe in it. This unique place will always find a perfect place in your home and of course your heart as well. All you need to do right now is look for the perfect place to put up this frame and show off your skills of picking out the most creative gifts for your boyfriend.
Order here.
11. We Fit Perfectly
If you both define what the millennials call the #CoupleGoals, here's a perfect Valentine's day gift for him – a pair of t-shirts you both can wear and flaunt your chemistry with.
Buy here.
12. Memories in Spotlight
Pictures! Pictures! Pictures! These gifts never run out of style. But what is better than just plain old pictures? A unique LED frame that lights up at the flick of a button! If you are looking for creative gifts for your boyfriend, just send in a bunch of your pictures and we will aeshetically clip them in this beautiful frame that will light up his room.
13. Letter in a Bottle
This age old way of gifting has to be one of the most romantic valentine's day gift for your boyfriend! We give handwritten letters, we write messages on WhatsApp, we leave sticky notes here and there, but have you ever thought of placing a letter for him inside a vintage looking bottle nestled in a handcrafted pinewood box? Now you can actually order it from us and show your boyfriend how romance was done in the 60s.
14. Our Book of Adventures
You are living your love story but how about putting it down in a book to actually relive it by reading it over and over again? You can now answer a few questions we ask and allow us to create what can possibly be the most unique gift idea for your boyfriend. The best part about this adventure book is, after the last page, your boyfriend will find a little surprise gift waiting for him.
15. Valentine's Day Chemistry
They say when two people are in love they get connected in every possible way. Even the chemicals in your body get synced. How weird is that? There is a romantic way of telling your boyfriend about the awesome chemistry both of you share. You can get him this unique card which lights up at the flick of a button to remind him over and over again that your chemistry is special!
16. Box of Fantasies
One thing that keeps love alive between a couple is when you have your fair share amount of kinkiness to go with it, and our box of fantasies is definitely the best naughty gift idea for him. From a black satin eyemask to blindfold your parter, to a naughty to-do list and a lot more, we have you covered for a steamy night ahead with the bae.
17. Stuck on You
Stuck on you and quite literally! These little fridge magnets are a reminder of the love you share together and for food, especially each time one of you runs to the fridge to grab your midnight snack. It also comes with a tiny marker pen and a mini duster so you can keep writing little messages for each other when you go to grab a bite.
18. Stars Above Us
The stars keep changing their position and can never look the same twice! But there will always be a time in your life where you feel your stars were perfectly aligned. All you need to do is give us the date and time, and we will recreate that moment of how the stars looked on your special day! So let us know the date and time you and your boyfriend went on that first romantic date so we can show you how the stars above looked on this special day. This is definitely the most romantic and perfect gift hampers for your boyfriend on valentine's day.
These are just a few options of what you can buy as a gift for him on Valentine's day. From keeping the romance alive, and your nights steamy, Oye Happy does its best to do it all for you by you just clicking on Oye Happy.
You can check out our website for more surprises!
So ladies, what are you waiting for? If you loved these gift suggestions, we have more in store. Check them out here.
comments