Whenever a special day like Valentine's Day is around, wives usually search Google or Pinterest for romantic gifts for their husbands. And it's a known fact that men can be difficult to shop for!
Further, wives go on a spree hunting for the perfect gift for their husbands. How boring would it be to just go get them the same old shirts, belts or wallets, like they do not have enough of those already! Valentine's Day is the perfect excuse to get them the best valentine gift for husband and what better if it is with a touch of quirk, fun and kink!
This Valentine's Day, Oye Happy decided to be Cupid's torchbearer and give you a bunch of ideas to keep the romance as good as new, the steam as hot as ever, and the fun factor as cute as it was on your first date.
What are we waiting for? Lets get shopping!
Frame a star
During the romantic courtship days and your honeymoon period, we bet your husband promised you everything in the world and even the universe and beyond, like the moon and stars! This Valentine's Day you can surprise your husband with the most romantic gift picked out for him and we ensure you this out of the world gift will leave him feeling all things romantic.
2. Love Contract
How often can you hold your husband legally responsible into a warm cuddle of a steaming hot make out sesh! This Valentine's Day by gifting your husband our love contract, hold him legally viable to do fun things. Use this opportunity to make him strip dance for you or give you the deepest love bite. This naughty gift idea for Valentines day is just going to leave him wanting more.
3. Growing Old Together
You know you've met your soulmate, and honestly nobody can predict the future the way we can at Oye Happy! Stop going to all those astrologers and tarot card readers to tell you what your future holds, because we will show you a sneak peak of it. All you have to do is answer a bunch of questions about you and your partner to know what the next 50 years together look like. This is not only one of the best valentine's gift idea but also one that your husband will cherish every single day.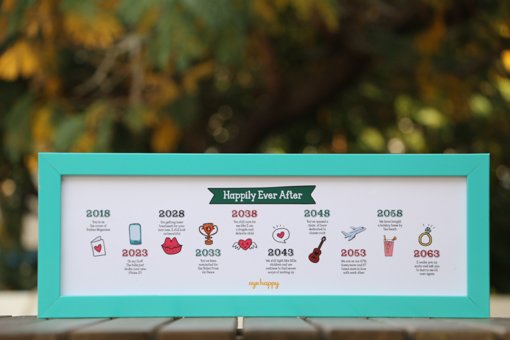 4. Memories in Spotlight
Pictures! Pictures! Pictures! These gifts never run out of style. But what is better than just plain old pictures? A unique LED frame that lights up at the flick of a button! If you are looking for gifts for your romantic husband, just send in a bunch of your pictures and we will aesthetically clip them in this beautiful frame that will light up your room.
5. 7 Promises
Making a promise is one of the most romantic gestures any couple can do for each other. Use this Valentine's Day as an opportunity to give your husband one of the most over the top romantic gifts. Promise him that you will never leave his side, or you will always share your favourite ice-cream with him no matter what, but I think the promise he wants to hear the most is, he will always be the one holding the TV remote. Can you make that one?
7. All About You
Know your husband enough to write a book on him? Or always wanted to make a movie on him? We can help you do something close enough! It may not be a movie or a book but it is a personalised frame with all his pictures, and the little details about him that only you would know. This valentine's day gift for your husband would definitely melt his heart!
8. Mapping Hearts
Are you and your husband from different cities? Even though both of you are in the same place now, there must be days you and your husband think about where you two come from. Here is a gift that maps the city you lived in and the city your husband lived in. Just give us the names of the city along with the location you stayed and we will make a frame with a piece of both your hearts put together. How cute is that! This would be a great gift to remind your husband that you haven't forgotten your base together.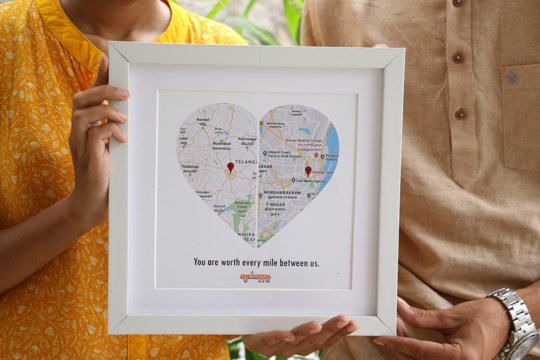 9. The Brownie Race
There is one neverending war in any marriage and that of course is the one where you cannot decide who does which chore! With our brownie race magnet, you can make it a fun activity! Make a list of chores, and end of the list you get to write a punishment. The one who loses has to do the punishment. You can make the punishment as fun as "belly dance for me"! Why not? This would be the perfect gift for your husband according to his persona.
10. Conversation Magnets
The most visited place for any couple is the kitchen, and of course in the kitchen our favourite spot is where the fridge is! Use the fridge to make conversations with your husband now. These conversation magnets are the cutest way of setting up date nights with your husband or even on days you fight and do not wish to talk, this will help solve your problems. You can write a message on one magnet asking him if he wants to go on a drive with you. And whenever he sees it he can respond on the other magnet. There is no way he would deny when you ask something in such a unique way.
11. Letter in a Bottle
This age old way of gifting has to be one of the most romantic valentine's day gift for your husband! We give handwritten letters, we write messages on WhatsApp, we leave sticky notes here and there, but have you ever thought of placing a letter for him inside a vintage looking bottle nestled in a handcrafted pinewood box? Now you can actually order it from us and show your husband how romance was done in the 60s.
12. Check and Mate
You spent your entire childhood playing snakes and ladders, and now you can continue to do so with your husband. Except this time, its with a twist! Along with the game we give you a booklet called "50 Shades of Grey" and the winner gets to make the other person do any 5 tasks from it. This naughty gift idea is sure to make your husbands night. Now mind your moves, because the one who wins gets to control the other ones grooves. This will make for the perfect valentine's day surprise for husband.
13. Open This When
We say men are like overgrown children, and the mood swings they have are proof enough. This valentine's day gift your husband a box for every mood he has! Miss me? There is a gift! Feeling naughty? There is a gift! Need sweet love? There is also a gift for this! For every mood he feels, spoil him with a gift. This will be the best gift for your husband on valentine's day.
14. Our Book of Adventures
You are living your love story but how about putting it down in a book to actually relive it by reading it over and over again? You can now answer a few questions we ask and allow us to create what can possibly be the most unique gift idea for your husband. The best part about this adventure book is, after the last page, your husband will find a little surprise gift waiting for him. I am sure this is a very thoughtful gift for your husband according to his persona.
15. To the Moon and Back
"I love you to the moon and back" is possibly our favouirte way of expressing love for the husband. And now we can get creative in showing it as well. Get him a frame that reads "I love you to the moon and back" and is designed to light up with a flick of a button. This LED frame will make the perfect romantic gift for your husband and lighten up his day.
16. Hugs & Cushions
There is only one object on the bed that can come in the middle of you and your husband. This valentine's day, get your husband a cushion cover which has your names and a date significant to the two of you printed on it. This cushion cover will melt his heart and will be the best gift for your husband on valentine's day.
17. Date Coupons
Deciding on the perfect thing to do together is one of the greatest dilemmas in every relationship. While the wife would want to watch a movie and go for a dinner date, the husband might just want to lazy at home, order in food and binge watch all India vs Pakistan World Cup series. If you agree, here are some redeemable date coupons to add the spark to your relationship, this Valentine's day.
Order here.
19. Crate Full Of Love
Another super romantic, make-your-husband-smile-ear-to-ear-for-the-entire-day gift that only Oye Happy could have thought of. This Valentines day hamper has the best valentine's day wishes for your hubby.
20. Oye Happy's Virtual Gifts
If you or your husband are in a quarantine zone, your best bet is virtual valentine's day gifts. These gifts are super cute, quarantine proof since they are delivered virtually and it can be delievered within 24 hours.
While you pick the most romantic Valentine's day gift for your husband, how about buying a gift for all of 7 days of Valentines week? Keep your partner surprised for the entire week of Valentines with this ultimate Valentines Gift Hamper!
After going through this list, we can only imagine how you wish your husband was looking for the same for you. But one thing we know for sure, once his gift arrives he is going to be planning Valentine's Day for next year and will probably outdo you in surprises!
Until then, keep planning your day and for more gift options you can head to Oye Happy.
Happy shopping, ladies!
comments