Valentine's day is the celebration of love and romance. We agree most of you millennials think that it's just too cliché, or this day is just being over commercialized and hyped. Most of you may even argue, why one day of the year to celebrate the love between a couple?
But hey, look at it the other way round. Who doesn't love a simple romantic gesture – a surprise dinner date under the starry sky, or walking home to a beautiful candlelit dinner planned and executed by your better half? And we believe that when the whole world around you is celebrating love with romantic gifts and surprises, it's simply a chance for you to indulge together and spend some romantic time away from your busy schedules, to remind each other of the love you share.
We've some amazingly romantic Valentine's day ideas for couples to indulge in, in this season of love.
Balloon Fest
Blindfold your better half and walk them into a room full of red heart shaped balloons, decorated with pictures from your best memories together.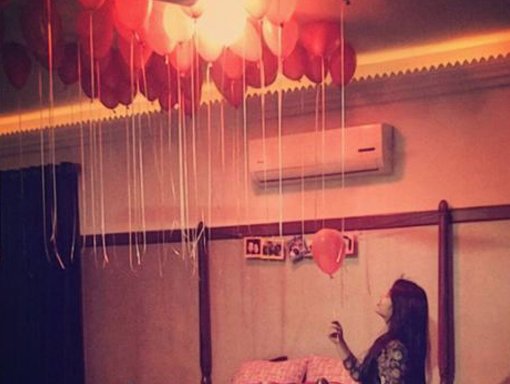 Book this surprise here.
Date to Remember
After a long day at work, it maybe tiring or you might just feel too laaazzzy to take your special one for a dinner date in the most crowded restaurant in the city. Here's a rescue plan – we'll turn your house into a romantic abode by setting up a Cabana, decorated with balloons, flower petals, drapes, candles and more.
Book here.
Jack in the Box
If you're in a long distance relationship, then this is the perfect way to surprise your special one this Valentine's day. Hide in a giant gift box right outside your loved one's door. As soon as they open the door, they'll be amazed seeing the giant box. And once they open it, you're literally gifting yourself to them.
Book this surprise here.
Dinner in a yacht
Booking a table in a restaurant is too mainstream? How about hosting the most romantic dinner of your lifetime for the both of you in a private yacht, in the middle of the sea?
Book here.
Movie Night at Home
Is your better half a movie freak? And are you a romantic? We've got both of your interests covered with a romantic movie night at home. Turn a regular evening into a romantic movie date at home, with this extraordinary set up of a giant projector, candles and flowers.
Know more here.
Elvis on Call
Emotions and feelings that cannot be expressed with pictures on Insta or FB with a looong caption, are better done with songs. Send a professional guitarist to your loved one's doorstep this Valentine's day to sing their favorite songs and make his/her day splendid!
Book here.
Date in a Chopper
Take your loved one on a long drive, park the car at the airport, and before they know they'll find themselves inside a private helicopter, thousand of feet off the ground! Brownie points for literally sweeping them off their feet!
Book here.
Date inside the Pool
Dinner dates have just gotten more romantic, this Valentine's season. Experience an exclusive candle light dinner inside a private swimming pool reserved entirely for the two of you.
Book this surprise here.
Day of Surprises
Want to make this Valentine's day super special for the most special one in your life? Plan an entire day of surprises that will leave them spellbound! Decorate their room with balloons in the morning, play with the cutest puppies for an hour, enjoy a romantic and royal lunch, cut a cake in a private aircraft on cloud 9 and more!
Check more here.
There's just a month left until Valentine's day. But have you planned something yet? Hurry up, and check out more of our Valentine's day ideas for couples here.
comments